Welcome to Systems & Solutions, Inc.
Experienced, Certified, and Professional…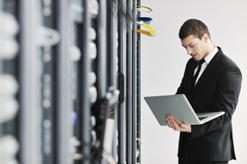 Systems & Solutions, Inc. only employs the very best. When you choose SSI you can be certain that the job will be done according to industry standards and integrated effectively into your current network. Backed by our years of quality service, our certifications in every field, and our unparalleled professionalism, we strive to provide the very best experience for our customers.
Customers are our focus…
Our business philosophy is simple: We are not an outsourcing company. We are a staff augmentation firm. We exist for the sole purpose of helping our clients find the solutions to accomplish their goals. We are not reactive. We are proactive. We assist our clients in assessing their technology needs and then we create and implement a complete plan so that our clients are successful.
Solutions For Success
SSI uses a two pronged methodology in creating a total solution for our customers. The first key to our approach is excellent professional services through a solid internal staff. We do not outsource. We only employ team members that we know want the very best for our customers and have a vested interest in their success. The second key is our partnerships with the absolute best technology solutions in the market today, provided by the leaders in each area. We are constantly adding partnerships based on the needs of our customers and we will never recommend any product that is not the absolute best.